Fiesta del Norte is an interactive Mariachi band that performs traditional Mexican folk and popular music on authentic instruments. Musicians dressed in customary charro outfits interweave songs, translations, storytelling, joyful gritos, and cultural insights. The ensemble performs at festivals, schools (K-12), libraries, town greens, and senior facilities. Concerts (with three to eight musicians) can be bilingual and include Mexican dancers. Workshops and performances add a sensorial exploration of Mexico through music, instruments, and cultural celebrations, like Cinco de Mayo and Mexican Halloween. Like its name, a Fiesta del Norte performance is a celebration. The eyes and ears of the audience are delighted as they are introduced to the culture of Mexico through music.

Dressed in traditional "charro" outfits, our repertoire spans from the Mariachis of Jalisco to the Nortenas of Chihuahua, to the harp music of Vera Cruz, down to the Marimba music of Chiapas. All this played on authentic instruments such as guitar, vihuela, guitarron, violin, harp, bajosexto, trumpet, accordion and marimba with beautiful singing throughout. Song translations, storytelling and cultural insights are interwoven between musical numbers.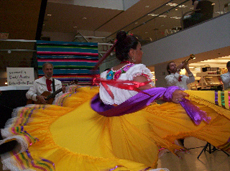 A member of the CT Commission of Culture and Tourism since 1986, this Hartford based group has serenaded New England audiences at major festivals, First Nights, colleges, schools (K through 12), libraries, town greens, rest homes and many other facilities.
A hallmark of a Fiesta del Norte concert is the wonderful audience participation with singing, dancing, hand-clapping, maraca-shaking, and the joyful calls or 'gritos' heard on every song. Our concerts are often bilingual and designed for all cultures and age groups. So put on your sombreros and celebrate Mexico with Fiesta del Norte!
——————————————————————————————
CLIENT REVIEWS
"On behalf of the Mexican Committee for Yankee Homecoming we want to thank you and your band members for a wonderful, memorable performance which made our event!"
– Peg Fredrickson, Committee Chairperson, Newburyport, MA
"Fiesta Del Norte provided excellent entertainment: attractive presentation in costume, cheerful demeanor, wonderful instrumental playing and beautiful singing. They provided the kind of music I expected and engaged the audience, inviting their participation. They were very personable and accommodating and my guests enjoyed them immensly.We were extremely pleased and highly recommend them."
– Yvonne Alexander, private events contractor, Stormville, NY
"Never has learning been so palatable! "
– Auden diCorcia-D'Amato, Hartford Public Library, Hartford, CT
"Your program today was a HUGE SUCCESS! Your warm personality and ability to get the students to participate in the singing and dancing made this a memorable program. Thanks!
– Joy Clew, Woodrow Wilson Middle School, Middletown, CT
"Fiesta del Norte is a vibrant, energetic music ensemble that makes valuable contributions to the promotion of Mexican and Latin American cultures."
– Juan Daniel Brito, Social Worker, Mary Hooker Elementary School, Hartford, CT
"Not only is their music wonderful, but they educate and entertain at the same time. "
– Kelly O'Donnell, Librarian, Hartford Public Library, Hartford, CT
"The Music, costumes, and cultural information were terrific. Thank you so much for helping us to celebrate the culture of Mexico in such a fun and exciting way "
– Sue Jensen, Welles-Turner Memorial Library, Glastonbury, CT