Keith and John are a very versatile duo that will enhance any party or private event.  They have a big and very professional sound for just two performers.  They also have an extensive song list consisting of classic hits that everyone knows and loves.  They're the perfect act for a both a mellow cocktail hour or for a festive event, dance party, or wedding.   This duo will definitely impress your guests with the talent and professionalism.
John Henry Langley is regarded by many as one of the best guitar/vocalists in the New England region.  JHL has performed with many of the top acts on the East coast. From classic Motown and R&B to current dance hits, John delivers performances that gets the crowd's attention every time. Currently you can see him performing at many venues with his brother in the Langley Brothers Project, and with many other bands around the southern New England area.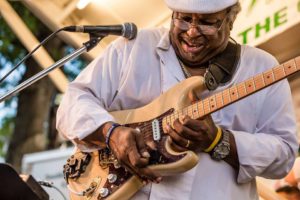 Keith Cooper is a talented keyboard player who has been performing for over 30 years. His musical preference is R&B, funk, and contemporary jazz. He originally taught himself how to play the guitar at the age of 11 and from that knowledge, taught himself how to play piano when he was 15. Shortly after that, everything fell into place for Keith and he quickly became a much sought after musician due to his sharp ear and strong sense of rhythm. Keith performs with many different quality bands in the Hartford/Springfield area. Keith's degree of commitment and experience make him the keyboard player that will take any band he plays with to the next level.
SONG LIST
Aint no Sunshine
All Day Music
All Night Long
Ain't no Woman
At this Moment
Always and Forever
Back in Love Again
Beyond the Sea
Blurred Lines
Brick House
Can't Get Enough of your Love
Careless Whisper
Caribbean Queen
Will it go Round in Circles
Close the Door
Cold Shot
Could it be I'm Falling in Love
Crazy
Disco Inferno
Dock of the Bay
Drift Away
Easy
End of the Road
Get Down on it
Give it to me baby
Give me the Night
Happy
Havin a Party
Hold me Thrill me Kiss me
Hold on I'm Comin
How Sweet it is
If Loving you is Wrong
If you Really Love me
I Keep Forgettin
I'll be Around
I'm Gonna make you Love me
It's a Shame
It's Not Unusual
I Wish
Just in Case
Ladies Night
Let's Get it on
Let's Groove Tonight
Let's Stay Together
Lowdown
Me and Mrs Jones
Minute by Minute
Moody's Mood
More Today than Yesterday
Mornin
My Cherie Amour
My Girl
My Prerogative
Never too Much
Never Give up on a Good Thing
On Broadway
Ooh Baby Baby
Ooh Child
Outstanding
Overjoyed
Rainy Night in Georgia
Ribbon in the Sky
Rock Steady
Sara Smile
September
Sex Machine
Shake Your Body Down
Signed Sealed Delivered
Sing a Song
Soul Man
So Very Hard to go
Stand by Me
Sweet Freedom
The First, My Last, My Everything
This Masquerade
The Thrill is Gone
Too Hot
Tracks of my Tears
Unchained Melody
Under the Boardwalk
Up on the Roof
Uptown Funk
Used to be My Girl
Walking in Rhythm
Wanna be Close to You
That's the Way of the World
We're in this Love Together
What a Fool Believes
What's Going On
What You Won't do for Love
Whip Appeal
Who's that Lady
Yearning for your Love
You'll Never Find
You're Still a Young man
You Send Me