Scott Lawson Pomeroy  (singer, musician, songwriter) is one of the region's most talented and creative performers.  Performing as a stand-alone lead singer or with his guitar, Scott brings exceptional musical talent and creativity to every performance.  Whether it's a small party or a large concert, Scott will bring something extra special to your event, and leave you and your guests wanting more!
Scott continues to add to his already impressive music resume.  In addition to an extremely wide repertoire of cover songs, he has original songs featured on four major television networks.  He also has a supporting role as vocalist for Denny Laine (of Paul McCartney and Wings fame).
The list big name artists connected to Scott reads like a "who's who" of music history:   Peter Asher (Peter & Gordon), Mick Jones (Foreigner), Hilton Valentine (The Animals), Denny Laine (Wings/Moody Blues), Rick Derringer, David Lindley, Ricky Scaggs, Doc Watson, Commander Cody, Peter Wolf, Marianne Faithful, and member of the Steve Miller Band, Johnny Winter, James Cotton, and Muddy Waters.  Scott has either opened for, or performed/recorded with all of the above.
—————————————————————
AUDIO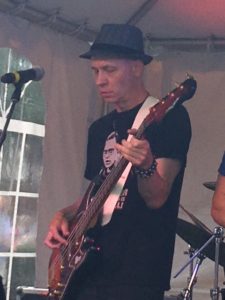 —————————————————————
What People Are Saying….
"They were fabulous!  Absolutely awesome!  Will def use them again!  Thanks!"  Allison C., Greenwich, CT
"Everything was great!  Scott did a wonderful job.  I have some other events I'd like to use him for, so I will be in touch."   Jamie S., New York, NY
"[The party] went great!  Scott was awesome!  Please thank him again for us.  Thank you again for working with us and being so accommodating."  Kelly P., Garden City, NY
"[Scott] was so much fun!  He played such a nice mix and interacted really well with our clients!"  Ted R., Fairfield, CT
"[All] went really well….He was great…..Thank you so much!"  Dana P., Stamford, CT
"[Scott and the group] are SO talented….and their performance was THE BOMB!  Thanks again, [we loved the] Scott Pomeroy group!"  Romulus P., Hartford, CT
————————————————————-
SONG LIST
Down Under
Waiting on a Friend
Margaritaville
Sweet Caroline
America
I'm a Believer
Knockin on Heavens Door
Born on the Bayou
Folsom Prison
On The Road Again
In The Midnight Hour
Sweet Home Alabama
Gimme 3 Steps
Working mans Blues
La Bamba/Twist and Shout
Roadhouse Blues
Shake Your Hips
Tush
Cheap Sunglasses
Don't Be Cruel
Dock of the Bay
The Wind Cries Mary
Little Wing
All Along the Watchtower
Lets Work together
Mustang Sally
Last Dance with Mary Jane
Breakdown
You Don't Know How It Feels
Takin Care of Business
Some Kind of Wonderful
Pretty Woman
Truck Drivin Man
Runaway
Youngblood
Brown Eyed Girl
Rock Me Baby
Little Sister
Proud Mary
Mojo Working
Pride and Joy
Cold Shot
Midnight Rider/Can't Find My Way Home
My Best Friend's Girlfriend
—————————————————–
Addicted To Love – Robert Palmer
Another Brick In The Wall – Pink Floyd
Beds Are Burning – Midnight Oil
Billy Jean – Michael Jackson
Blister In The Sun – The Violent Femmes
Blitzkrieg Bob – The Romones
Burning Down The House – Talking Heads
Bust a Move – Run DMC
Centerfold – J Geils Band
Crazy Little Thing Called Love – Queen
Dance Hall Days – Wang Chung
Dancing In The Dark – Bruce Springsteen
Dancing With Myself – Billy Idol
Don't Forget About Me – Simple Minds
Don't Stop Believing – Journey
Down Under – Men At Work
Electric Avenue – Eddie Grant
Faith – George Michael
Fight For Your Right To Party – The Beastie Boys
Footloose – Kenny Loggins
Friday I'm In Love – The Cure
Get Down On It – Kool & The Gang
Here I Go Again – Whitesnake
Hungry Like The Wolf – Duran Duran
I Love Rock & roll – Joan Jett
I Wanna Be Sedated – The Ramones
I Want You To Want Me – Cheap Trick
I'm Gonna Be (500 Miles) – The Proclaimers
In Your Eyes – Peter Gabriel
It's The End Of The World – REM
Jack & Diane – John Cougar
Jenny Jenny (867-5309) – Tommy Tutone
Jessie's Girl – Rick Springfield
Just Like Heaven – The Cure
Just What I Needed – The Cars
Laid – James
Let's Go – The Cars
Love Shack – The B-52's
Love Song – The Cure
Love Stinks – The J. Geils Band
Melt With You – Modern English
Money For Nothing – Dire Straights
Mony Mony – Billy Idol
My Sharona – The Knack
New Sensation – INXS
Once In A lifetime – Talking Heads
One – U2
One Thing Leads To Another – The Fixx
One Way Or Another – Blondie
Orange Crush – REM
Pour Some Sugar On Me – Def Leopard
Rock The Casbah – The Clash
Rock This Town – Stray Cats
Rockin In The USA – John Melloncamp
Should I Stay Or Should I Go – The Clash
Start Me Up – Rolling Stones
Summer of '69 – Brian Adams
Sunday Bloody Sunday – U2
Super Freak – Rick James
Sweet Child O Mine – Guns & Roses
The Breakup Song – Greg Kihn Band
The One I Love – REM
Touch Of Grey – The Grateful Dead
We're Not Going To Take It – Twisted Sister
What I Like About You – The Romantics
When Doves Cry – Prince
You Don't Know How It Feels – Tom Petty
You Give Love A Bad Name – Bon Jovi
You Shook Me All Night Long – AC/DC